In the past seven years, Violet Li has interviewed hundreds of Tai Chi and Qigong masters/grandmasters, instructors, and practitioners as well as prominent scientists, doctors, and experts. She has written about the philosophy, theory, principles, techniques, and skills of the art. She has celebrated and shared the personal stories and accomplishments of individuals and the healing power of Tai Chi and Qigong. She has provided in-depth reviews on clinical studies, books, DVDs, and videos. She is a prolific writer and has published more than 500 articles on Tai Chi and Qigong as of June 2016. She has readership from more than 45 countries. You are welcome to read her current writings as well as her archived articles via VioletLiTaiChi.com and provide feedback and comment.
Be knowledgeable and inspired!
It was spring 1999. I met Natalie at Mimi's Café for lunch to catch up and celebrate our birthdays. The conversation was fun and endearing. She informed me that there was an opportunity that I could fulfill my dream as a journalist again.
I was in high school when Watergate erupted and the late President Richard Nixon resigned. It proved that journalism was the fourth pillar of democracy. The inspiring news shaped my desire to devote myself to journalism. I passed the highly competitive college entrance exam and studied journalism and minored in economics at National Chengchi University, Taipei, Taiwan. After graduation, I spent 12 and sometimes 14 hours six or seven days a week on the job. I absolutely loved my work and viewed it as my mission. I was awarded Best Reporter two years later for my investigative reporting. Back then Taiwan was still under military influence. Once, I was threatened by a four-star-general with jail time if I continued to write on corruption by state-run companies. Fortunately, my newspaper company was fully supportive of me. After I immigrated to the U.S., I wasn't comfortable writing for American media due to my lack of knowledge of American society and culture. I entered Corporate America and had a long career in management.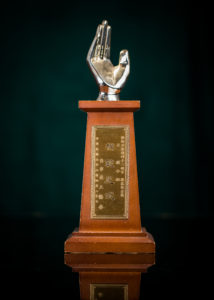 After living in the U.S. for more than two decades, Natalie thought that I was ready to take on a journalistic task. However, I wasn't sure what area to focus on. She explained that the online "paper" Examiner.com wanted to serve all niche markets and I could report on Tai Chi (Taiji), which I was and still am passionate about. I was thrilled about the potential but remained cautious. She nudged and pushed me to send in sample writings and resume. Luckily, I got the job to report on the local news in the St. Louis market. Due to the hits of my articles coming from all over the U.S. and abroad, the editorial board recruited me to write a separate column for the national site as well. There is a Chinese description of someone "happy like a fish gets water". Yes, I was having a time of my life writing on the subject of the healing art of Tai Chi and Qigong.
I had a day job as an IT senior project manager at a large telecommunications company, which required many overtime hours. However, I managed to average 30 hours a week chasing story leads, doing research, making appointments for interviews, conducting interviews either in person or via phone or email, taking photos, video-taping events, drafting stories, rewriting articles, editing photos, and publishing the article by uploading articles, photos, and video. Sometimes, I spent hours, week after week and only to realize that a story is not newsworthy. Oftentimes, people were too busy to respond and I had to make multiple calls and send several follow-up emails. I seldom had any free time and sacrificed my social life. An unintended benefit of being so busy was that I had no free time for shopping and saved a lot of money, which probably made my husband happy ;-). I worked through vacations and holidays and published articles while on the road. I struggled to put a story together when the news was critical but lacked supplemental information. I agonized over culling down material when I had too much significant information due to the word count. People hung up on me nastily when they mistakenly thought that I was trying to sell them a marketing plan. I constantly received unsolicited calls and emails for free publicity that I had to politely turn down. Frequently, I felt accomplished and relieved when finished writing an article and only recognized it was 2 am. The long hours on the computer and mobile devices took a toll on my eyes. Last winter, both eyes underwent cataract surgery and I am still suffering from dry eye syndrome.
My hard work has paid off – though not financially. At one point, I had readership from at least 45 different countries. The subscription had steadily grown. I was writing in the categories of "Sports & Fitness" and "Health & Wellness". Oftentimes, I was ranked top five for my categories. My articles were re-posted by other online media. One organization in Brazil translated my articles into Portuguese while another in Mexico translated into Spanish. People sent me messages thanking me for spreading the words of Tai Chi and Qigong. Hundreds have been inspired and wanted to try the art. It seems that my aspiration of growing the international Tai Chi community one person a time is happening.
My friends told me about the first International Tai Chi Symposium in 1999. They were unable to attend due to unexpected obligations. I went by myself and found the Symposium eye opening. From the scientists' reports, I realized the amazing health effects. From the grandmasters' lectures, I started to comprehend the enormity of the art in so many profound aspects. I was learning Chen Style Tai Chi then so I asked Grandmaster Chen Zhenglei whether I could study with him. He and Simu welcomed me to their home in Los Angeles. Grandmaster Chen generously offered me private lessons for years. He gave me entire sets of his books and DVDs. He urged me to learn the art at all levels so I could write intelligently and balanced. Even though he presented me with many favors, he never once asked me to write an article about him or Chen Style Tai Chi. He respects the integrity of true journalism. He never criticizes anyone or any style. He always said that the global Tai Chi community is one family.
Grammatically, the Chinese language is very different from English. Even though I produced fashion trend guides while working in a footwear industry and hundreds of project status reports, I still make mistakes with tenses and proper usage of articles, among others. My vocabulary is limited and my word choice is rudimentary. My first article came out in July 1999. My son kindly asked me to show him my writings before publishing them. Since then, he became my first editor. Later, my daughter and husband pitched in and helped with editing. Recently, my student Doc Luecke has volunteered to share the burden. There were times that I gave them little lead-time due to the urgency of a story. I felt guilty as well as grateful toward their act of kindness.
In July, a European company bought out Examiner.com. The new company has a different publication direction. With that, I decided to launch a comprehensive platform www.VioletLiTaiChi.com on my own. To broaden the reporting areas, the new platform offers several categories. It will continue to publish quality journalistic reports under International Forum, useful instructions and guidance under Master Teachings, and critiques of books, videos, smart mobile apps, movies, magazines, podcasts, blog radios, and any kind of media that promotes and discusses the topics of Tai Chi, Qigong, mind-body exercise, meditation, and other related subjects under Review. Under the category of Global Community, you can find Important Resources and Tai Chi/Qigong Schools around the world. You can use an online form to submit information of your organization to be listed. Event Calendarpresents you with major events globally and you are welcome to submit your event online for listing. As a Tai Chi practitioner, instructor, and columnist, I have been asked how my journey looks and what I have learned from it. I refrained to share my thoughts and feelings because rule #1 as a journalist, I am not supposed to write in the first person's perspective. With these, I created a new column Reflections. www.VioletLiTaiChi.com belongs to the world so I am inviting other experts to contribute to it. I am not particularly web savvy. So far, I have spent hundreds of hours fumbling through the tool to build this. Unlike an employee at Examiner.com, I am NOT compensated monetarily at all. There are many challenges lying ahead. I fully acknowledge that the mobile version is a work in progress. I sincerely request your feedback on the platform and published articles and suggestions for betterment.
My dear friends, I want to thank you for supporting my endeavor throughout the years. Many of you shared your knowledge and private stories with me so I could write the amazing stories of Tai Chi. Some of you have posted my articles on your social media accounts or passed along my articles to friends and family. These acts facilitate the growth of the awareness of the healing art. That's why I got the Best Media Award recently at the 17th World Congress on Qigong, Tai Chi, and TCM. My gratitude goes out to you! THANK YOU!!!!